Google employing Deepak Chopra
February 25, 2021 at 2:03 am
Wtf is wrong with Google when they are employing alternative medicine swindler Deepak Chopra to coach people over Ftbit?
Quote:Fitbit [owned by Google] is launching an exclusive wellness program for Fitbit Premium subscribers called Mindful Method. The program is created by alternative medicine specialist Deepak Chopra and builds on the company's focus on stress management that started with the Sense smartwatch.

Mindful Method encompasses over 30 audio and video sessions on topics like mindfulness, sleep, stress management, wellness, and the mind-body connection, Fitbit says. The program is taught by Chopra, a renowned author and wellness expert, with more sessions from Chopra planned to be released over the coming months.

https://www.theverge.com/2021/2/23/22295...ess-series
I just hope that he doesn't teach people that meditation techniques which, according to him, caused an earthquake in California in 2010.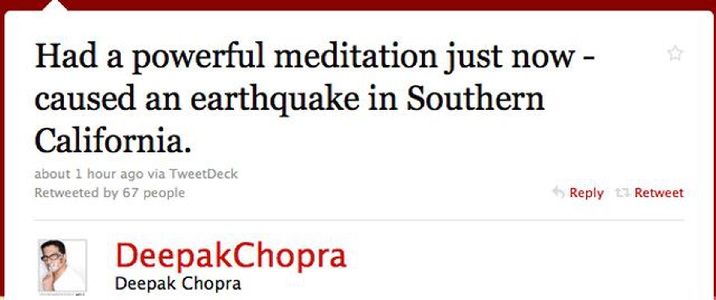 https://mashable.com/2010/04/04/deepak-c...arthquake/
teachings of the Bible are so muddled and self-contradictory that it was possible for Christians to happily burn heretics alive for five long centuries. It was even possible for the most venerated patriarchs of the Church, like St. Augustine and St. Thomas Aquinas, to conclude that heretics should be tortured (Augustine) or killed outright (Aquinas). Martin Luther and John Calvin advocated the wholesale murder of heretics, apostates, Jews, and witches. - Sam Harris,
"Letter To A Christian Nation"