RE: Putting it in my mouth
May 3, 2021 at 11:03 pm (This post was last modified: May 3, 2021 at 11:05 pm by Rev. Rye.)
Welp, here's something I whipped up for myself a few days ago: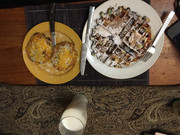 Not visible because I already ate them before taking the photo: two apples, one red, one green. Admittedly, this may not be how Roscoe's does it, but I ain't Roscoe.
I was born with a gift of laughter and a sense that the world is mad.