[Seriously Unserious] Covid19 Theories!
June 1, 2020 at 12:47 am (This post was last modified: June 1, 2020 at 12:48 am by ignoramus.)
1.The Covid-19 Vaccine Will Contain A Microchip to control us further.
2. Covid-19 Was Deliberately Made In A Lab. This one is so "2 months" ago but had to include it.
3. Made by alcohol companies to sell hand sanitizer!
4. Eating Garlic Prevents Coronavirus. Well it does, but for completely different reasons.
5. DisneyPlus Released Covid-19. Then all of sudden everyone is forced to stay home. But what will the kids watch! OMG! So evil!
6. Covid-19 Is, In Fact, 5G Attacking Our Brains. That's right folks! There is no virus! It's all in our minds! (and the lab test kits are all in on it too!)
7. Cocaine Protects Against Covid-19. I'm sure there's people here who can personally deny this rumor for us!
8. Drinking Cow Urine Also Protects Against Covid-19. Over 200 Indians can't be wrong, can they?
9. Greta Thunberg Caused Covid-19 To Help With Climate Change. She's a bit too naive and stupid to be that clever.
10 18. Russia Have Released Lions To Enforce Social Distancing. Not a virus theory but what a kickass deterrant!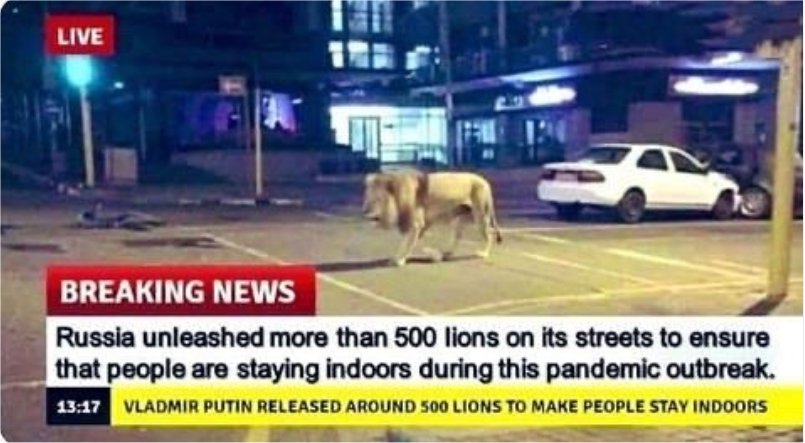 Please, only serious conspiracy theories will be considered!

No God, No fear.
Know God, Know fear.