Your thoughts on the following topics please! (for academic purposes) -Harvard
July 23, 2020 at 3:36 am (This post was last modified: July 23, 2020 at 3:43 am by ignoramus.)
Growing up is a trap – don't fall for it.
Why everything that is prohibited becomes twice as tempting.
Why squirrels are better than people.
In God we trust, all others bring statistical data.
Proof that cats treat us as their slaves.
Flat Earth believers and GPS – it's a complicated relationship.
Penguins are swallows who eat too much before sleep.
Reusing birthday congratulation messages does not make you a monster.
Vegetarian food proved non-lethal to meat-eaters
REMEMBER KIDS!: There's no right or wrong answers! You all get a nice green elephant stamp at the end.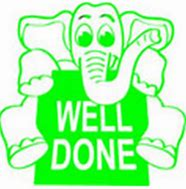 (the first of many (for academic purposes) threads I'm suspecting
)
No God, No fear.
Know God, Know fear.