RE: Living in a sim...
February 9, 2021 at 12:26 pm
(February 9, 2021 at 11:39 am)

Angrboda Wrote:

(February 8, 2021 at 10:11 am)

Sal Wrote: Who cares? We wouldn't notice if we were in a simulation anyways; what test are you gonna do to test for simulation?


Some argue that the granularity of reality (things being broken into quanta) is evidence that we're living in a sim.
The floaters in my eyes cause granularity.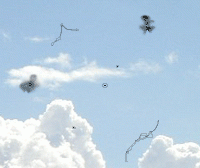 I don't have an anger problem, I have an idiot problem